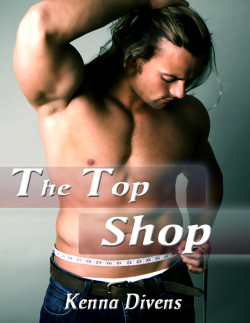 ISBN: 978-1-62327-395-8
The Top Shop is a Gay, BDSM Erotica short story – M/M. This erotica short story contains explicit content, erotic situations, graphic language and is suitable for readers 18 and over.
At Top Shop, the clothes are the finest in all the land, hand sewn by the finest young tailors. Top Shop however has its secrets: whatever happens at Top Shop stays at Top Shop. Every young man who works there knows his job comes with a price.
Rocky is the most unlikely of tailors, an Adonis perhaps, but not a tailor. Circumstances have forced him to close his shop and look for work in another town as a tailor's apprentice.
He has just been offer a job at Top Shop, the dream of any young tailor, but he doesn't know about Jim's dark secrets. He can see the other men are scared of Jim, but he doesn't know why. All he knows is Jim offered him a job when he needed one and  that Jim scares him a little too. Things are always busy at the Top Shop.  Head tailor and owner, Jim Novak, is excellent at his job, and he can make any man look good.  Jim's eye for detail and gift with the needle makes him well-sought after. As a result, his tailoring shop was always filled with clients.
His many successful clients keep him and his many employees busy.  All of Jim's employees were scared of him.  They were very quiet about what happened in the men's tailoring shop once the sun went down. Though Jim had earned his reputation as an excellent tailor, his reputation as a mean slave driver was just as well known. As a result, no one wanted to take up the offer of working under the best tailor in their whole town.  Things turn around for Jim when a talented, handsome young man turns up to apply for new position under Jim.
Jim knows Rocky needs the job, and he's going to find out what Rocky is willing to do to keep it.
Available on Kindle, Nook, Apple & Android Devices
Purchase From Retailers Below:
Amazon Kindle
B&N Nook
Smashwords
Apple iBooks
Google Play
Kobo