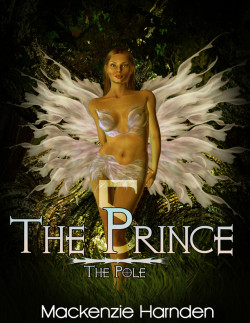 ISBN: 978-1-62327-318-7
The Prince V: The Pole is a Fantasy/Menage Erotica short story – M/F/F. This erotica short story contains explicit content, erotic situations, graphic language and is suitable for readers 18 and over.
They wandered on for another day and a half without rest, but exhaustion finally forced them to take a pause next to a stream. They collected water, ate a meal, and laid down to rest next to the trickling water. The group makes a strange picture: the two elfin women lovers, the huge elf man, the human prince, and the pixie.  Even stranger is the fact that they are all sexually compatible and eager to please each other.
They are very close to reaching their destination, and the elfin women decide that they need to make the most of their rest break. They introduce their friends to their favorite toy. As tempting as the toy is, everyone is in agreement that nothing compares to the real thing. Will they be able to walk away from this kind of pleasant adventure when they get the Prince safely home?  What will it cost them if they can't?
Available on Kindle, Nook, Apple & Android Devices
Purchase From Retailers Below: