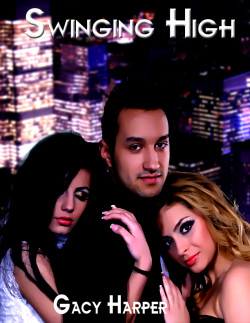 ISBN: 978-1-62327-209-8
Swinging High is a Couple's/ Multiple Partner Erotica short story – M/F/F, F/F/M. This erotica short story contains explicit content, erotic situations, graphic language and is suitable for readers 18 and over.
A young, newly married couple fantasize about bringing another woman into the bedroom with them. Starting off as an innocent bedroom fantasy, the idea soon becomes more than pillow talk. They are on their honeymoon and they are far away from home.  What better time and place to try something and someone new?  They start out at a strip club where they find out some new things about themselves.  The next thing they know, they are exploring all of the fantastic possibilities.
Soon, they find themselves at their first swingers' night, and they are enjoying everything their hearts and bodies desire.  This looks like it could be the start of something amazing.  They are a couple that enjoys new things and each other. Who knew that a simple trip exploring the different sight of the city could turn out so fantastic?  Will the rest of the marriage be this great?
Available on Kindle, Nook, Apple & Android Devices
Purchase From Retailers Below:
Amazon Kindle
B&N Nook
Smashwords
Apple iBooks
Google Play
Kobo