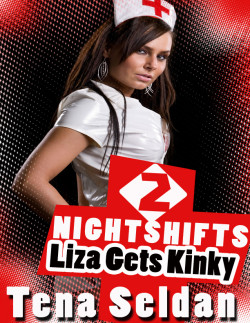 ISBN: 978-1-62327-287-6
Nightshifts 2: Liza Gets Kinky is a Lesbian and Couple's Erotica short story – M/F, F/F. This erotica short story contains explicit content, erotic situations, graphic language and is suitable for readers 18 and over.
Liza Conway can never get enough sex. She starts her shift on time, and immediately begins to crave something in or around her pussy, her mouth, or just something to touch and feel. Everything in her world has a sexual or arousing edge to it. What she wants in that particular moment, however, is a fellow, blonde nurse by the name of Gretchen, who is more than happy to provide her own pussy for the licking. After the two are done, Liza begins to fancy some of the medical equipment and decides to have a little bit of kinky fun. On her way back to work, an intern catches her gaze. A spark flickers between and it's not long before they find themselves having a wild séance, the intern's cock filling her eager mouth. Before her shift is over, however, Liza simply has to have another taste of her favorite pussy, Gretchen.
Available on Kindle, Nook, Apple & Android Devices
Purchase From Retailers Below: