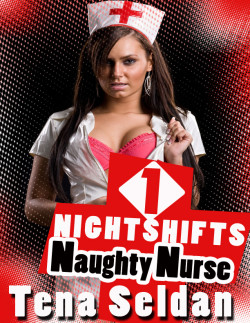 ISBN: 978-1-62327-281-4
Nightshifts 1: Naughty Nurse is a Lesbian and Women's Erotica short story – M/F, F/F. This erotica short story contains explicit content, erotic situations, graphic language and is suitable for readers 18 and over.
Liza Conway is always on the lookout for sex. She thinks about it, she fantasizes about it and when she gets it, she sure as hell enjoys it. She's a nurse who often works long shifts, sometimes twelve hours and needs a bit of excitement afterwards. Actually, she craves it, searches for it and will lick a pussy, suck a cock or fuck a doctor, all for her own amusement and satisfaction. And she ends up doing just that. She eats out a fellow nurse named Gretchen, sucks the cock of Kyle, her favorite, fucks him, fucks Gretchen, and just goes all out. She isn't a self-proclaimed nymphomaniac for nothing. The scenes and her behavior do not escalate, but stay on a steady fucktruck pace, meaning she just keeps on pleasuring others and herself – herself by and while pleasuring others – throughout. Working at Baltimore General Hospital sure has its benefits, it seems.
Available on Kindle, Nook, Apple & Android Devices
Purchase From Retailers Below: