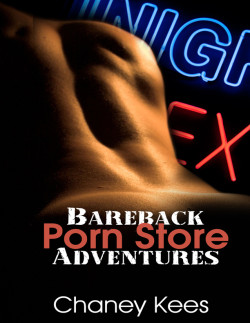 ISBN: 978-1-62327-396-5
Bareback Porn Store is a Gay Erotica short story – M/M. This erotica short story contains explicit content, erotic situations, graphic language and is suitable for readers 18 and over.
A very popular porn store and theater in a major southern city is known for being a bastion of hot and raunchy anonymous bareback sex.  The best job to have is to be the manager, especially for this guy; he's a  very closeted gay man and welcomes this activity not only for as a service to the gay community of the city but also for his owner's personal enjoyment of hot anonymous bareback sex.
He's hardly ever disappointed. There's always something going on. In volume one, we have a Power-Top Bear who gets off on not only the feeling of a hot hole milking his big bone but also on control and the danger that he could potentially hold in his hands. After his initial encounter with a bear chaser in a booth, he gets an added surprise, and so does the store manager. It's a good time for all.
Available on Kindle, Nook, Apple & Android Devices
Purchase From Retailers Below:
Amazon Kindle
B&N Nook
Smashwords
Apple iBooks
Google Play
Kobo